Product Detail
Product Tags
Specification
Palisade Fence, as effective security fencing, The forbidding appearance, inherent strength and high damage resistance make the palisade fencing one of the best choices of premise protection.
Designed with smooth surface, rigidity structure, sharp prongs and narrow pale spacing, the palisade fences are normally considered to be difficult even impossible to climb, straddle, grab and gain foot-hold. Thereby, it effective deters would to be intruders and trespassers, protects your assets, office and factory from damages.
Type
Pale size
Pale Thickness
Height
Width
Angle Rail
Post
Post Length
PALES-L
30X3040X40   40X40 50X50
3.0-6.0
1800
2750
L40X40X4.0

L50X50X4.0

L50X50X5.0

L50X50X6.0

IPE100x55

IPE120x74

SHS80x80x3.0

SHS100x100x3.0

2400
2100
2700
2400
3000
3000
3700
4000
4700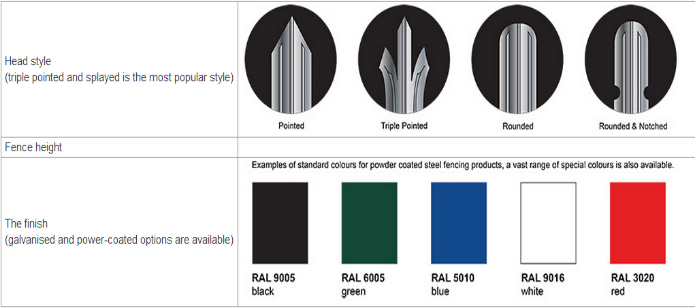 Min order: 100PCS
Payment Terms:
Supply ability: 400TON/MONTH
Delivery time: 30
Packages: Pallet
Tower fencing is the most popular choice for locations requiring a higher level of security and vandal resistance, and can be seen protecting premises of many different types throughout the UK. Steel palisade fencing is especially popular for schools and industrial sites because of its high damage resistance and the fact that it is so difficult to climb.
As tower fencing suppliers, Anping County Hua Guang supply both the W section style of palisade fencing and the D section style of palisade fencing, with the integrity of the palisade fence being maintained by the two horizontal rails that are used as standard in palisade fences up to three metres high. However, we can supply other heights of palisade fencing as required
Packing & Delivery

Project

---
Next:
Expanded Metal Fence
---